The average wedding produces pounds of waste and tons of C02 emissions. If you are looking for ways to reduce your traditional wedding's impact on the environment, here are some tips for you!
Recylcled or paperless invitations
Choose eco-friendly paper options. Many companies use recyclable, bamboo, and even seeded paper that you can plant after use and grow into flowers! Make sure to inform your guests that their invites are recyclable or re-useable.
Go zero waste with e-invitations. Go green while saving time. Awesomely reduce waste and make managing your guest list more comfortable than ever by sending out E-invitations.
Choose sustainable brands
The wedding dress: Searching for a wedding dress is not an easy feat, more so searching for sustainable design. Luckily, there are already several brands that have made considerable efforts to create beautiful gowns without harming our environment. The good news is, you can purchase ethically-made wedding rings now, too!
The wedding suits: Again, choosing sustainable brands is an excellent way to support like-minded businesses and reduce your footprint. If the tux you are renting needs to be shipped, you can request your garments to be sent in re-useable bags to offset the carbon emission!
As a guest: If you're attending a wedding, keep your wastes to a minimum by thrift shopping.
Invest new beauty products
Your wedding is the best time to invest in new beauty brands that have zero-waste initiatives.
If you are hiring a professional to do your makeup, inform them that you'd like to eliminate as much waste as possible. Makeup wipes, plastic eyelashes, and other packaging can add up quickly, and many of these things cannot be recycled.
Prioritize venue selection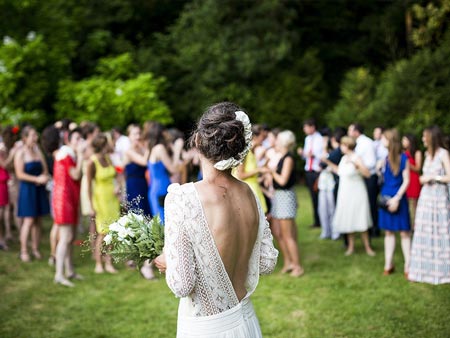 Refuse destination weddings, unless it's intimate. A quick way to increase C02 emissions significantly is by flying dozens of people to another country. If you really want to do a destination wedding, make it intimate with a few important guests and stay long enough to make a vacation out of it!
Ask your venue about recycling and composting options. If your venue doesn't provide opportunities for recycling or composting, you can look for local companies that you can work with for proper wastebaskets. Some companies will even pick up recycling or compost when your wedding event is done.
Look for a venue that already has decor or needs minimal rentals. A space that offers a natural view or has reusable decor will save tons of emissions from event rental trucks having to haul decor to your venue.
Choose compostable or reusable goods
Compostable goods are your best option. Look for products made with compostable materials. Make sure you have marked compost bins so your guests can quickly help with your efforts.
Give drink glasses as a party favor. Gifting guests with their drinking glass is a good idea for party favors that your guests will surely love too.
Choose local food and donate leftovers
Choose local. Support local farmers by serving locally-sourced food for your reception dinner. Keep your cake small. Most wedding vendors know that there's so much cake wasted at the end of a wedding night. Your guests won't mind a small and minimal cake.
Ditch the plastic water bottles and serve flavored filtered water. It's essential to stay hydrated throughout a wedding, so make sure you have a water station readily available for your guests. You can also gift your bridesmaids and groomsmen with re-useable water bottles!
Donate the leftovers. There's often a ton of leftovers at the end of a wedding night. Make sure that you don't over-order on catering and let your venue and vendor team know that you'd like to donate leftovers instead of throwing it away.
Ask your florist about zero-waste options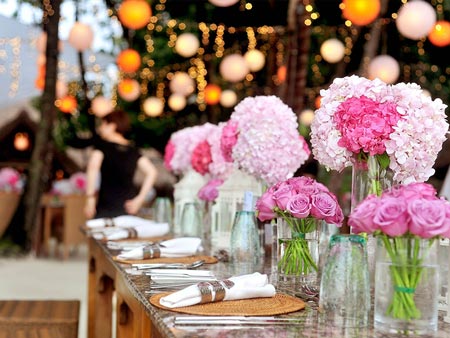 Request local and seasonal blooms. Choosing locally-sourced florals not only support a local farmer but also reduces emissions from shipping flowers overseas.
Use live plants as centerpieces. Live, potted plants make for gorgeous centerpieces. Plus, your guests can take them home as favors after your event.
Go for foam-free floral installations. Foam-free installations are becoming a trend among professional florists, as it's a significant way to reduce the use of unnecessary foam in floral designs.
Shop from your home. You'd be surprised to see how many things you already own that you can re-use as decor for your wedding! Talk to your planner or event designer about this and work on it together.
Avoid using fabrics that need washing. Washing re-useable materials like tablecloth and foldable napkin is a sure way to increase your carbon footprint emission. Ditch the fabrics and look for tables that look great as they are.
Choose beeswax candles. Most candles contain harmful chemicals that are released into the air when we burn them. Beeswax, on the other hand, does not, and they even last longer and drip less!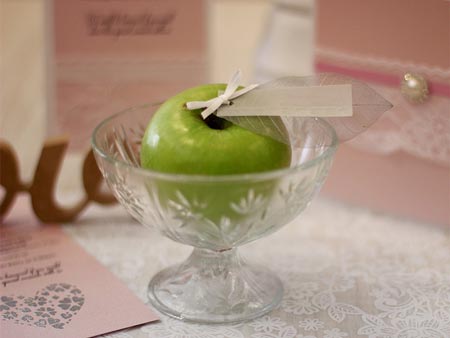 Be creative with consumable party favors. Popular party favor ideas include honey, salsa, and olive oil. Research on local farms for more gift ideas for your guests.
Don't include your wedding date and names. As much as we know how much you want everything to be personalized with your wedding date and last name, your guests are more likely to re-use something they can display in their home. If you want to make the gift more personalized, consider putting your info somewhere that's less likely to be seen.
Request for eco-friendly gifts
Ask for e-gift cards. Many retailers like Amazon and Airbnb now offer e-gift certificates, which makes it easy for your guests to send you one without the hassle of bringing it to the wedding. You're also less likely to misplace an e-card.
Be creative with your registry. Instead of asking for things, why not ask for experiences like a one-night staycation at a local hotel or Airbnb or an anniversary photoshoot to celebrate one-year together.
Choose a charity where you can donate. If you want to take your environmentally conscious efforts a step further and inspire your guests to do the same, many organizations can help make it easy for your guests to make donations in your name!
We hope these zero-waste wedding tips have inspired you to help our environment while planning your day! For more wedding planning inspiration, please visit our website at https://bravoeventplanning.com/ or call us at 805-228-9050 today.