Couples who have different religions and come from different cultural backgrounds deal with unique issues when planning for their wedding. They have to consider how to incorporate the elements of both faith and culture while making everyone happy and still staying within their budget. We've listed eight tips to make the occasion go smoothly.
1. Make sure that each family is aware of the customs and traditions
Educate your friends and other guests, too. Let them know about your budget, and find out who among them is comfortable putting on a cultural attire. If you and your guests are not on the same page, you might end up getting disappointed. You can also include a wedding etiquette guide on your website or wedding program to make sure everyone is duly informed.
2. Check with your officiants before setting the time, date, and signing a contract with the venue
Most officiants nowadays are open to interfaith marriages, but there are still some who are not. The ceremony between a Jewish and Christian couple is usually officiated together by the rabbi and the priest. However, it is not possible for Hindus and Catholics, so they have to hold two separate ceremonies. Make sure to check for holy days, as some religions don't hold weddings during those days.
3. Choose venues and wedding vendors that allow your wedding themes and ideas
Most venues have standard packages for weddings. But sometimes, new wedding ideas can pose logistical problems. During an Indian wedding, for instance, a fire is kindled in the middle of the wedding altar. This can be a problem as most ballrooms won't allow an open flame in compliance with fire codes. Some religions also hold longer wedding ceremonies than the usual 30-minute window, so make sure to clarify this with the venue before making any deposits.
4. Customize the ceremony and personalize cultural traditions
Talk to your fiancé and decide which traditions you want to do. Realistically speaking, there are traditions that can't be performed together because of issues with logistics, and not to mention your personal styles. Make the ceremony something that reflects you as a couple, no matter what your parents say. Ditch the garter and bouquet toss if you're not into it.
5. Be creative with your food and drinks to include family's traditional ingredients and dishes
Instead of the usual surf and turf, serve cocktails prepared from native ingredients. There are restaurants and caterers that love to innovate with fresh new ideas. They can even help you brainstorm for the perfect menu to serve for the reception.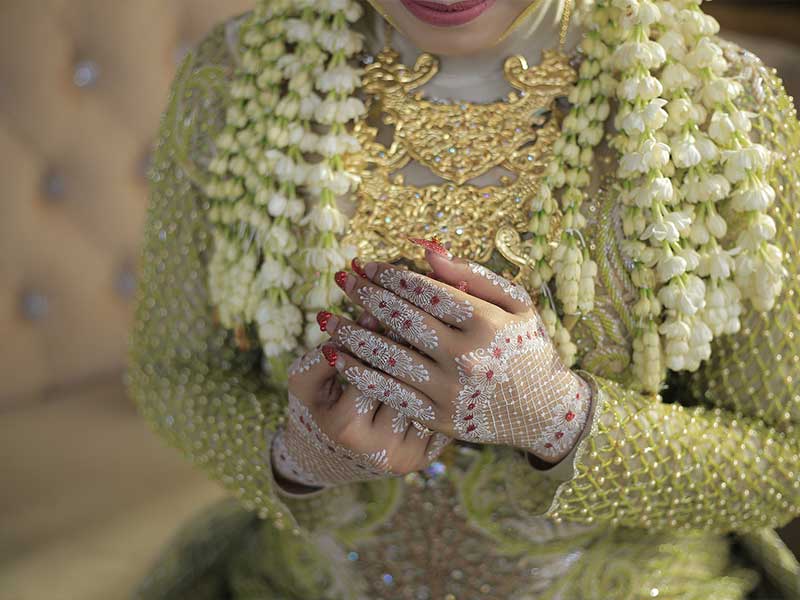 6. Be bold with your fashion
There are several designers out there who can make modern interpretations of traditional wedding gowns. With a little creativity, it's possible to blend tradition with your personal style and preferences. For instance, you can wear a red wedding gown for your Chinese wedding. For some cultures, it is prohibited to wear sleeveless dresses at weddings. We recommend going for convertible dresses that be easily transformed into a sleeveless dress during the reception.
7. Take advantage of the music and decor
Make use of art elements like sculptures, furniture, and installations that are suitable for weddings. Find a venue with decorative elements and ambiance that suit your culture and religion. Ask your DJ or band to include traditional music in your wedding playlist so all guests can have a blast on the dance floor.
8. Hire a wedding planner for your confidence
We at Bravo Events were raised in a multicultural community, so we understand how essential it is for you to keep your traditions going even on your special day. We also know how parents sometimes can't grasp how you want to personalize your weddings according to your tastes and what's important for you. We know how much you, as a bride, need an ally and a credible source by your side. We are here to back up your ideas and help your families understand how things will work.
If you have an event coming up and need the best hands to help you with it, call us at 805-228-9050 for a free consultation!