An outdoor wedding can be romantic and can give your guests an evening they will never forget. However, preparing for an outdoor wedding isn't as easy as they may seem. There are several things you have to consider before walking down the aisle, like the weather, noise, and even bugs. Here are useful tips to keep in mind to make sure your wedding will indeed be memorable for everyone.
Having an outdoor wedding means you're expecting the sun to be out and about for the whole duration of your wedding ceremony and reception, which can be the entire day. With this in mind, consider how the sun will affect your wedding photos. Keep this in mind as you plan for your wedding photos.
Depending on its position, the sun can cast unflattering shadows and cause squinting and unnecessary glare. Remember this when you are arranging the seats, reception tables, and photoshoot spots. The last thing you want on your wedding day is the sun glaring in your eyes while you and your future spouse are exchanging your vows.
If possible, visit the venue with your photographer before the wedding so you can decide where you should have your photos taken to ensure that they perfectly capture the best moments on your big day. Also, have some powder on hand for retouch when the sun starts ruining your makeup. You will have gazillion photos taken from the start to the end of your wedding, so you' want to have a flawless look throughout the day.
Depending on the time of your wedding, the sun can leave your guests profusely sweating. Consider giving out a wedding program that your guests can use as a fan. If you have a big venue, rent large electric fans to keep your guests fresh. Elderly guests have a low tolerance for heat, so avoid seating them in direct sun.
If your venue does not have shades structures or trees, ask them to set-up properly shaded areas with comfortable chairs where your guests can relax when they need to.
Provide SPF for your guests, so they don't get a sunburn. Even if they remembered to put on sunscreen before going to your wedding, they would need to reapply at some point. Sunscreen in mini bottles can also double as wedding favors!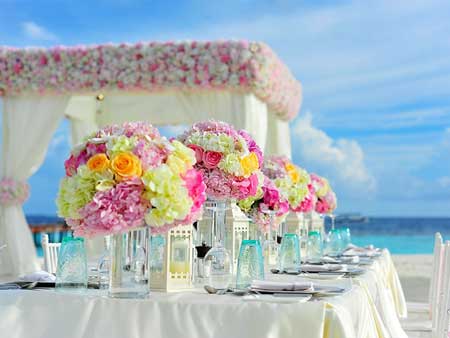 Many outdoor weddings experience windy conditions. Avoid using light fabrics such as chiffon and china silks on your wedding dress and your bridesmaids' as well. Discuss any weather-related concerns you have to your hairstylists so they can suggest a hairstyle that will suit the wind conditions and your style. Have a back-up hairstyle just in case your dream wedding hairstyle won't hold up to the windy conditions. Ask your groom to use a pomade or other styling product. Make sure to inform your guests about the wind conditions in your venue so they can plan accordingly.
There are several noise distractions that outdoor weddings suffer, like the sound of the crashing waves in a beach or kids screaming and running around in a garden. When this happens, it can get tricky for your guests seated at the back to hear what the wedding officiant is saying. An easy fix is to use a sound system so you can mic your ceremony. Ask your venue if they can provide an outdoor sound system, or ask your wedding planner for rental recommendations.
Protect Everyone From Bugs and Mosquitoes
A bug spray is a must if you're getting married outdoors, especially during summer. You wouldn't want your guests to be leaving your wedding early because of unpleasant bites from these pesky insects.
Put a few bottles of bug spray or individually wrapped insect wipes in the bathroom or common areas at your venue. You can also set up citronella candles and torches for a more natural smell. Discuss with your venue if it's possible to treat the place a day before the wedding to get rid of mosquitoes and bugs.
Protect Everyone From Bugs and Mosquitoes
Alcohol is a focal point during weddings, but they can be dehydrating, so you must serve plenty of water and hydrating beverages at drinking stations. Consider serving lemonade, tea, or punch, and make sure to prepare plenty of ice as well. Place them somewhere accessible so your guests can easily reach for a drink when their throats start to feel dry.
Have a Back-Up Plan
It's lovely to be wed outdoors and have a beautiful view of nature as your backdrop as you exchange vows with your partner. But sometimes, things won't go the way you want it, and your wedding is not an exemption. Mother Nature can be unpredictable, so have an indoor space ready just in case it rains.
Or you can also have your wedding ceremony outdoors and then head indoors for the reception like what some bride and groom do. Make sure to have a solid back-up plan, so you don't have about to worry about wedding guests soaking wet and cold during your wedding reception.
We at Bravo Events can help you plan your dream wedding and turn it into reality without you going over your budget. We're a licensed and insured wedding and corporate event coordinator located in Ventura County, CA. If you need the help of a professional in planning your event, please call us today at 805-228-9050, or send us a message through Bravo Events by filling out the inquiry form.